The desert is a lonely place at the best of times. For Sébastien Loeb and Fabian Lurquin, it became that bit lonelier as the Bahrain Raid Xtreme pair saw their World Rally Raid Championship title hopes take a significant blow on the Rallye du Maroc.
A power steering failure on the fourth stage of five while running third overall left Loeb's Hunter T1+ stranded in the dunes, with a subsequent fluid leak forcing a lengthy repair job and a lowly 51st in the final result.
The knock-on effect for Loeb's championship has not been lost on Loeb, who now stares at a 22-point deficit to Toyota's Nasser Al-Attiyah – who finished third – heading into the final round of the year in Andalucía in two weeks.
"Of course, it wasn't quite the rally we wanted after losing some points yesterday but that's motorsport," said Loeb. "What we have found are places where we can further improve before the Dakar as we're always developing and progressing."
While one corner of the BRX team was left to rue what might have been, the other side was celebrating a breakthrough first victory for Prodrive, courtesy of Guerlain Chicherit and Alex Winocq in the GCK Hunter.
"That feels good…everything is just perfect," Chicherit said post-event. "That result is just awesome! I only drove the car for two days before the rally, but it gave me great confidence and fits really well with my driving style so I was certain we could do something.
WHY GCK IS RUNNING TWO DAKAR PROGRAMS
Chicherit will be in his BRX Hunter for the next two years while his GCK team works on its hydrogen challenger
"Now after winning here in Morocco, I now know what I can really do with my car and that's just incredible."
Orlando Terranova and Alex Haro made it a Hunter one-two in second place, but the rued faces of Loeb and Lurquin were proof that this was a missed opportunity for the team.
The pair had come into the weekend – following an unusual six-month break after the postponement of the Andalucía Rally in the summer – with a one-point cushion over Al-Attiyah and Mathieu Baumel.
Loeb and Lurquin opened the road for the Prologue – won by Al-Attiyah – but lost a heap of time on the first proper stage, as two punctures dropped him 23 minutes off early rally leader, Overdrive Racing's Yazeed Al Rajhi.
"We finished [the stage] by not changing the tire, but I think we lost more time than if we had stopped to change it," Loeb lamented. "It's not the start we wanted, because we are already far behind."
Proof, if ever it was needed, that rally raid can flip on its head came on day two as Loeb enjoyed the stage win while Al-Attiyah toiled. Four punctures and a time loss of 53 minutes while he waited for Toyota brand mate Erik van Loon to offer up his two spares for the four-time Dakar Rally winner, dropped him to seventh.
"It was very disappointing to suffer so many punctures today," Al-Attiyah reflected.
"We were forced to wait for another competitor to assist us, as we ran out of spares. The terrain made it really difficult to find any kind of rhythm, and today we lost out on what should have been an easy stage win. Even so, we fight on tomorrow."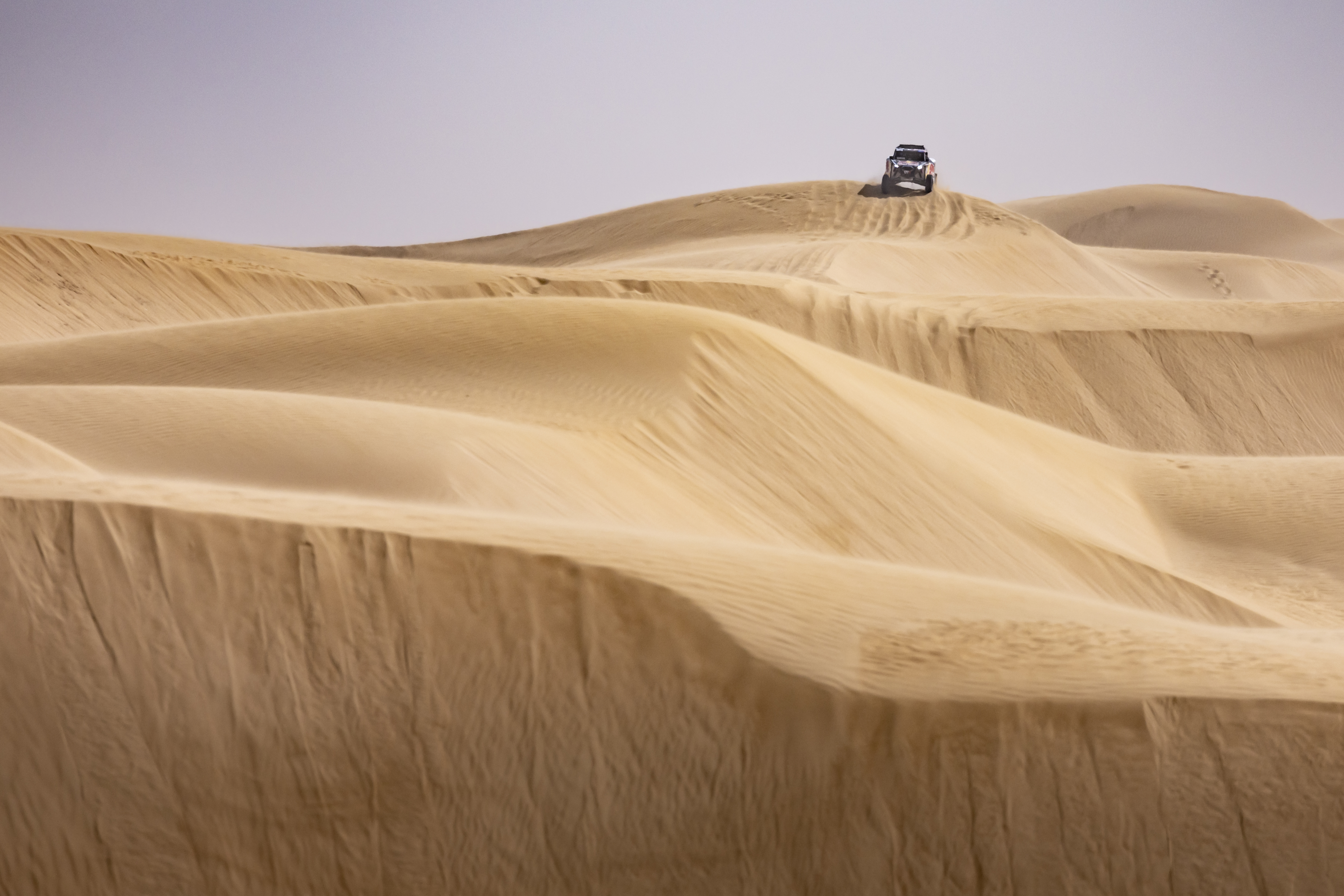 Fight on he did, as Al-Attiyah won the Laâyoune loop stage on the third day to claw back some time on Loeb, who was seventh. But, by setting the second-fastest time, it was Chicherit who moved into the lead.
As Loeb was left stranded in the desert, Chicherit consolidated his lead over Terranova by finishing second again on stage four – won by Al Rajhi by a slender margin of 90 seconds – and secured victory with another runner-up finish on the final day.
Audi shows Dakar credentials in Open Class
Although the stage for the second-to-last event of the world championship, the Rallye du Maroc also served as the first preparatory rally ahead of the 2023 Dakar, which kicks off on December 31. Many of the sandy stages, particularly the tests in the dunes, have similar topography and style to that of the Dakar in Saudi Arabia, so this was an event that drew the big guns.
Audi, competing in a separate open class with its new RS Q e-tron E2, ran three cars for Stéphane Peterhansel, Carlos Sainz and Mattias Ekström.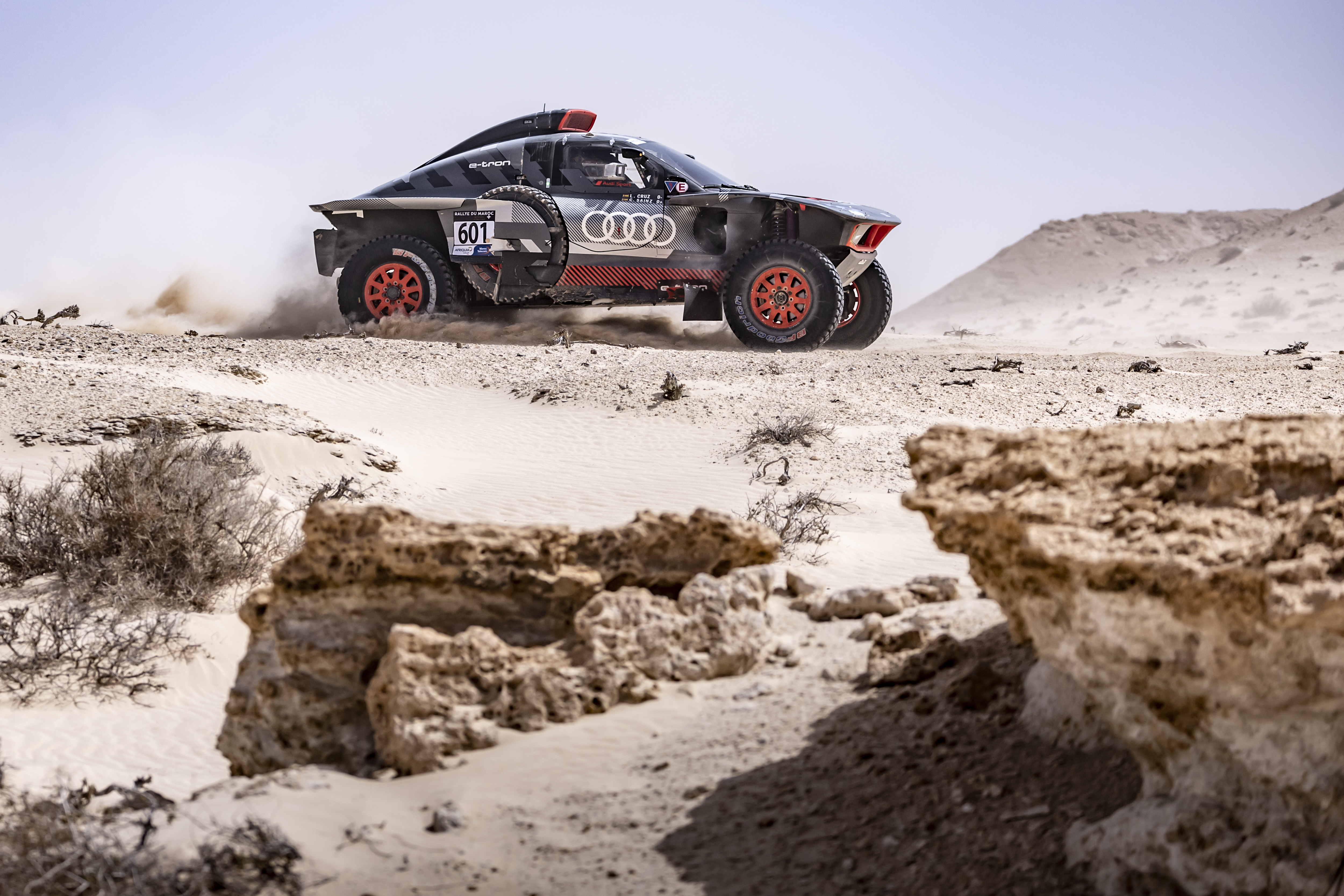 Sainz came out on top in the Open class battle among Audis, beating Ekström by over 13 minutes, with Peterhansel third a further 21 minutes adrift. Lionel Baud, driving an Overdrive Racing Toyota suffered an early setback and was fourth, some 19 hours behind Sainz.
More importantly, Sainz's complete time for the rally would have given him overall victory by nearly two minutes, while Ekström would have finished third, narrowly behind Terranova.
Quintero sets new record in T3
Californian Seth Quintero became the youngest-ever winner of the Rallye du Maroc, turning a 10-minute deficit to a 10-minute victory margin over Dakar Rally winner Francisco "Chaleco" Lopez Contardo.
Red Bull Off-Road Junior Team dominated the event, winning four out of the five stages and filling two-thirds of the podium with Extreme E race winner Cristína Gutierréz finishing third.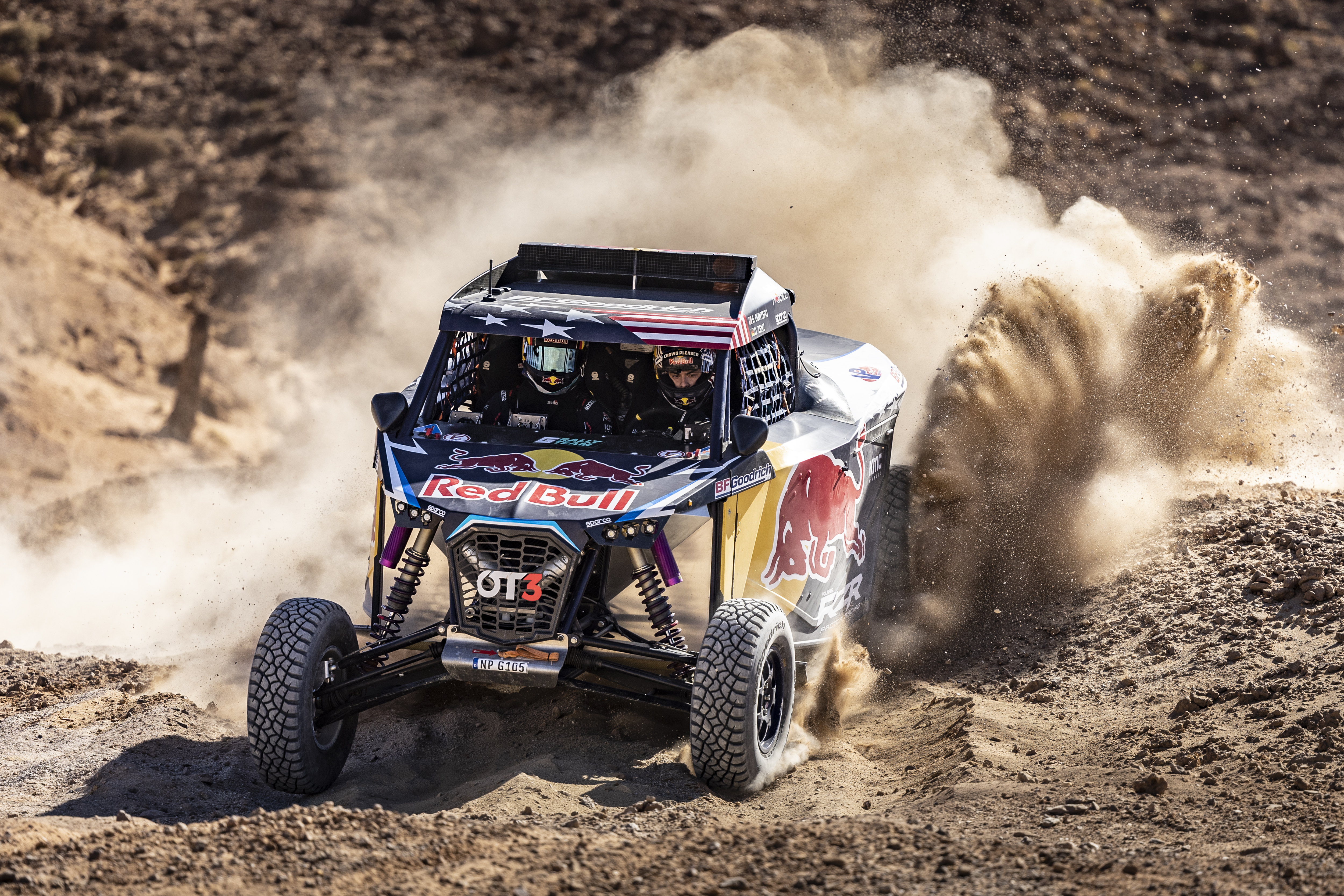 Quintero won the Prologue while Lopez Contardo took the opening stage before extending his margin over the American by a full nine minutes.
Quintero fought back on stage three, taking eight minutes out of Lopez Contardo, with the lead ballooning further before the final stage.
Caution, rather than attack, was the order of the day for Quintero on the final day as he brought home the victory.
"I don't think I've ever driven so cautious and scared in my life," Quintero said. "Previously I've always been in the position to fight for a lead at a rally, rather than having to manage a lead. But the stage was beautiful today, I was just kind of bummed out that I couldn't drive as fast as I wanted to because I was so nervous.
"We came into this thinking that we were going to be out of the championship and now we're pretty close. We'll fight for second, and first isn't too far ahead."
Lopez Contardo, with two wins out of three this season, holds a 28-point lead over Gutierréz before Andalucía, while Quintero is just 10 points further back.